Do you want to increase the visibility of your brand or company? Well, by creating and printing your own customised stickers, you're sure to get noticed and increase your visibility!
Whether it's your logo or any other visual that represents your brand or company, a customised sticker is an excellent communication tool. So get creative and get started!
Customised and 100% tailor-made sticker: an excellent communication tool
Particularly suited to small and medium sized businesses looking for a visual impact that's also fun at a local level, customised stickers are a communication weapon of choice!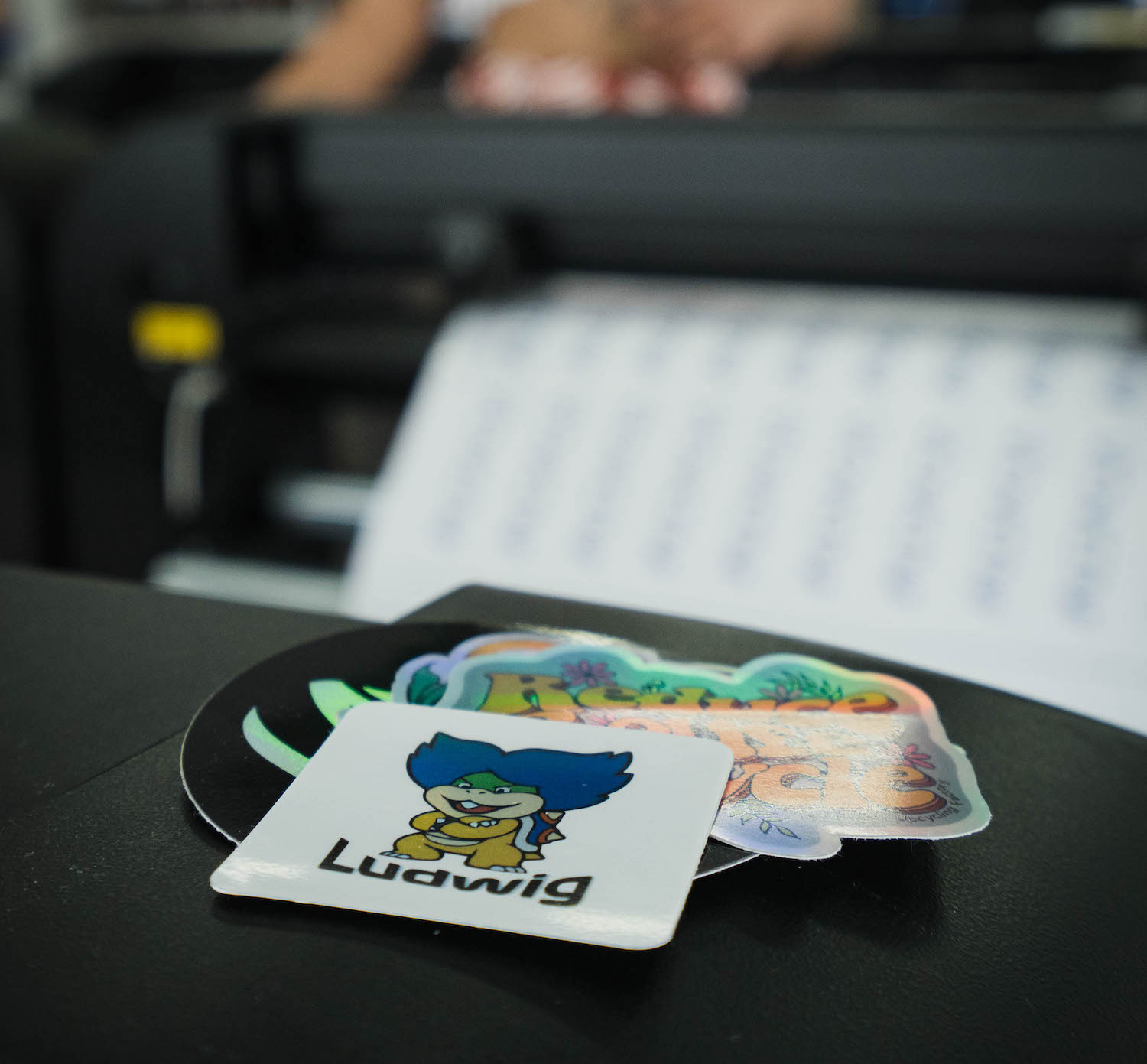 Whether you're a carpenter, a local shop or a communications agency, custom stickers add an original and dynamic dimension to your brand and corporate communications. But how do you use these stickers effectively to get the visibility you want? Stay put! The Yéti gives you its 3 tips:
1. Make your customised stickers available
Whether you're a property manager, garage owner or restaurant owner, you probably have premises where you welcome your customers or potential customers. And bingo! These are the perfect places to display your 100% customised sticker. 
Whether they feature your company logo, colours or any other visual that evokes your brand, these stickers are sure to be appreciated by customers and prospects. Whether they're displayed in your store, on your counter or at a trade show booth, tailor-made stickers are a great way to keep your brand top of mind so people won't forget about you!
Yes, a customer who remembers your brand is a customer who comes back. Personalised stickers are a great way to build customer loyalty and encourage repeat purchases. 
2. Give customised stickers to employees and ambassadors
It's often said that a company's employees are its best ambassadors! Also suitable for internal use, the 100% customisable, made-to-measure stickers can be distributed to employees to display wherever they choose, promoting your company's image in the most effective way possible.
Placed on laptops, bicycles or phone cases, customised stickers can also promote your company's image outside the office. So you know what to do!
3. Apply customised stickers to your products
Whether you're an online business or a bricks-and-mortar store, a 100% personalisable sticker can be a small gesture that customers will appreciate. In fact, think about putting it in every box or with every package to make your customers happy. If it's original enough, the customised sticker can catch the eye and be remembered by potential customers when they look at it.
And don't underestimate this little attention! A bespoke sticker placed inside a package or parcel can indeed increase customer loyalty. It can also act as a symbol of affiliation to a brand or company. Keep this in mind for your next shipment!
Our tips for printing the best customised stickers
Looking for inspiration to create your own custom labels? The Yéti gives you some trends and tips to help you stand out from the crowd!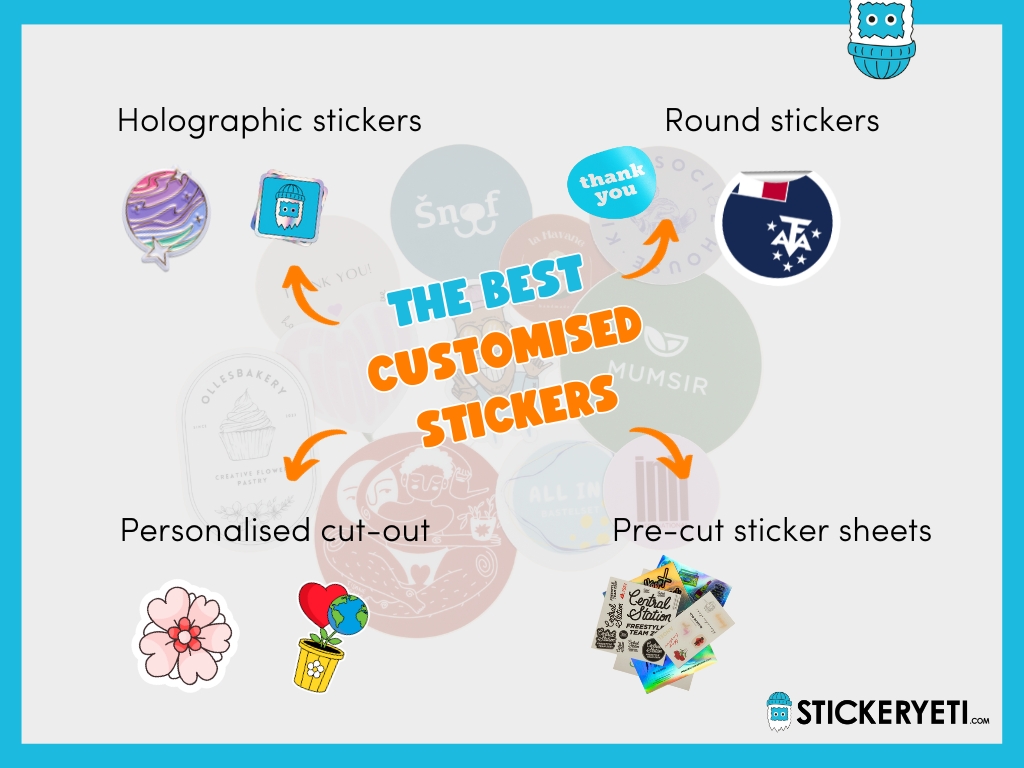 Here are some examples of stickers you can't miss - they're sure to please!
, the all-rounders! This made-to-measure sticker, available in a range of cut-outs, is sure to meet all your needs and will be adapted to the visual you want.




The

is a bestseller! Its original shape gives your label a more voluminous dimension.




are specially designed for mass labelling of bottles, parcels or paper bags. These made-to-measure stickers on a roll save you valuable time and add a welcome personal touch to the surface they are applied to.

How can you stand out from the crowd with a customised sticker?
Try holographic stickers with their beautiful rainbow and metallic effects that are sure to catch the eye. If you're looking for an original type of label, holographic stickers are definitely the way to go!

Among the multipurpose stickers, you have the option of choosing a personalised cut-out . This full chair die-cut is ideal for your customised sticker printing, a 100% personalised and unique creation. You'll get a sticker with a specific contour that follows your visual, ready to stick or distribute!
Choose pre-cut sticker sheets , a single page with a range of customised stickers. Popular with artists, the die-cut sheet is useful if you want to print several different designs on one sheet.
Businesses can also create customised stickers for other applications such as walls, floors and textiles . Larger in size and able to be applied to other surfaces, these custom stickers are ideal for professionals.
How do I create a customised sticker?
Stickeryeti makes it easy! As a specialist in printing custom stickers, we offer several types and formats of stickers to suit your needs, whether for simple visibility, signage or decoration.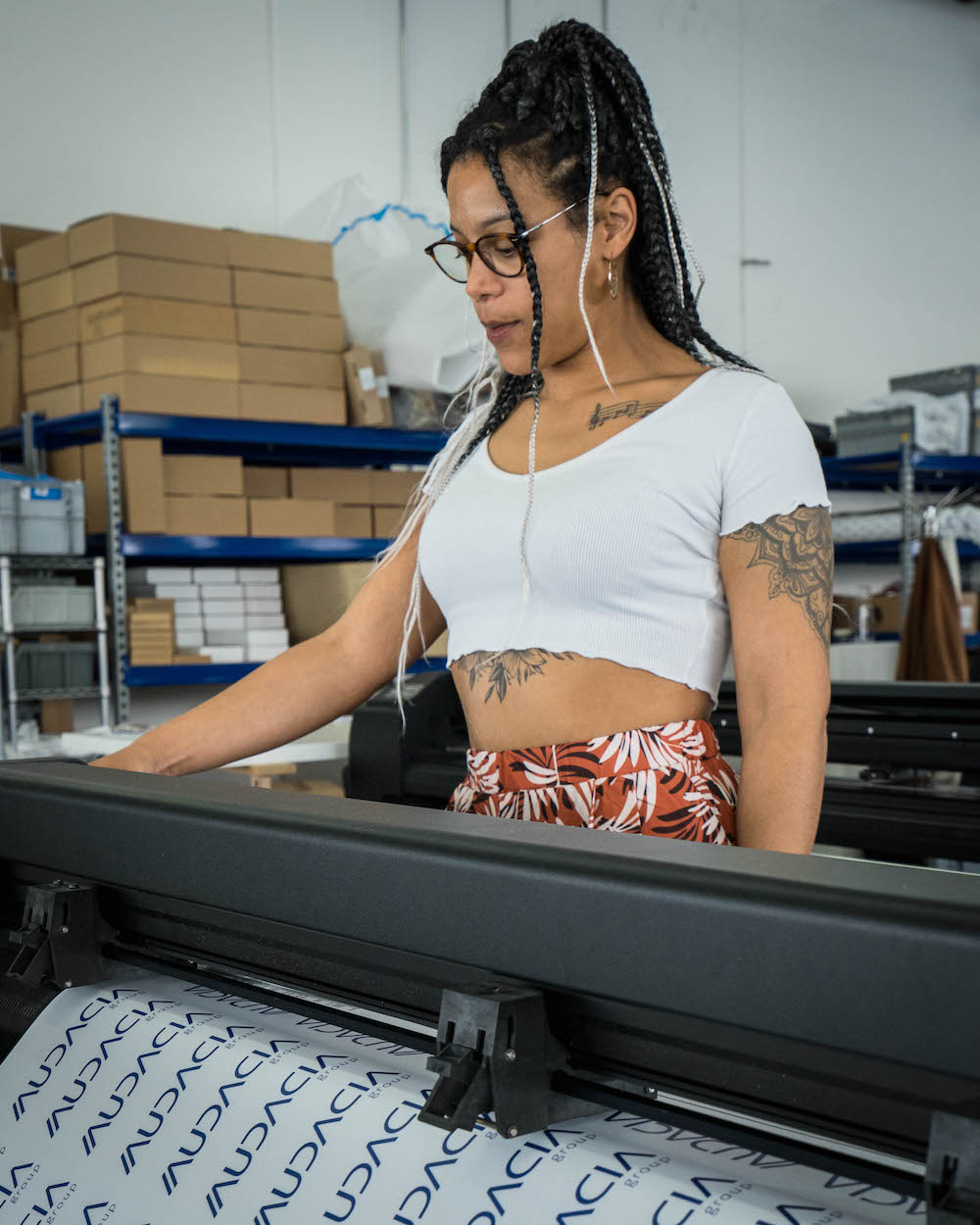 Creating my customised stickers
All you have to do is choose the type of sticker you want, select your cut-out (custom outlines are an option, of course), then choose the size and quantity of stickers you want.
Then all you have to do is upload the image you want to appear on your customised sticker. No design to hand? Don't panic, our online editor will help you create a design quickly. You're ready to print your own custom stickers!